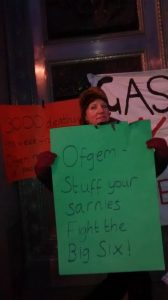 Winter is always a busy time of year for Fuel Poverty Action. This February has been particularly hectic. Here's a brief look at some of the things we've been up to and how you can get involved.
In the same week that it was announced that 3,000 people could die that week from cold homes, so-called energy regulator Ofgem suggested that people take packed lunches into work so as to save money to pay their rip-off energy bills. In a couple of hours we organised a pack-lunch protest to express our outrage that Ofgem is more interested in regulating our lunches than the Big Six energy companies. See coverage of our action on Russia Today and by Global Justice Now.
There was also action on fuel poverty in Kirklees that week with a 'warm up theatre stunt' in Huddersfield where they also handed out copies of our Energy Bill of Rights.
This month we've got two new blog posts on our website looking at some of the support and solidarity work that we do with people directly affected by fuel poverty. One is from an English for Speakers of Other Languages teacher at Tower Hamlets college describing how she is covering fuel poverty in her classes. Our second blog post is a victory we have helped secure on behalf of a pensioner couple being harrassed for years by Britsh Gas. This victory shows that we can have concrete and significant wins when we help each other out. If you'd like to get involved in supporting each other in taking on the Big Six energy companies and dodgy landlords who leave us to freeze, get in touch and visit our resources page here.
Thanks to the latest groups to sign up to our Energy Bill of Rights, including our first union – BECTU! Read our Energy Bill of Rights here and take a look at the impressive and diverse list of groups who support it.
Upcoming actions
This week is the Radical Housing Network week of action culminating with a mass action to Block the Budget on Monday 23rd February. There have been loads of actions happening across London organised by local housing action groups – it's difficult to keep a track of, but the RHN are attempting to here. We're organising a 'warm homes bloc' on the main action on Monday. Join us there to demand warm, healthy, secure homes for all!
Wednesday 25th February is a day of Britain wide solidarity with Tony Cox, an unemployed activist arrested by the police for supporting a fellow claimant at the Job Centre. We're supporting the statement written by our friends Edinburgh Coalition Against Poverty and the Scottish Unemployed Workers Network. When dealing with the Job Centres, housing offices and the Big Six energy companies they want us isolated, alone and scared – they know that when we help each other, we can win!
Have we missed anything?! Let us know what action against fuel poverty you're planning!