FPA has been fighting since the Grenfell fire for justice for survivors and to make sure that other buildings with combustible cladding have it urgently replaced. In 2018 we started the SCIN campaign for Safe Cladding and Insulation Now, which has attracted wide support. We have emphasised that while cladding and insulation are off, which can be for months, residents must be protected from the cold.
The government has now agreed funding for replacement of one kind of combustible cladding, the kind that was on Grenfell, ACM. Many social housing tower blocks and some private, leaseholders' blocks, have now had the cladding replaced.
Many others however, are still in danger, including hundreds with other kinds of flammable cladding, buildings under 18M high, many student residences, and others that have just been left behind, like the Pendleton estate in Salford.  For thousands of residents, the crisis is set to continue for years.
---
Our Open Letter to the Secretary of State, with 150 organisations, MPs and other weighty signatures, was delivered 17 October 2018.
Below are some of the other reports and materials from our campaign.
Report of SCIN Day of Action – Safe Cladding and Insulation Now! – 17 October 2018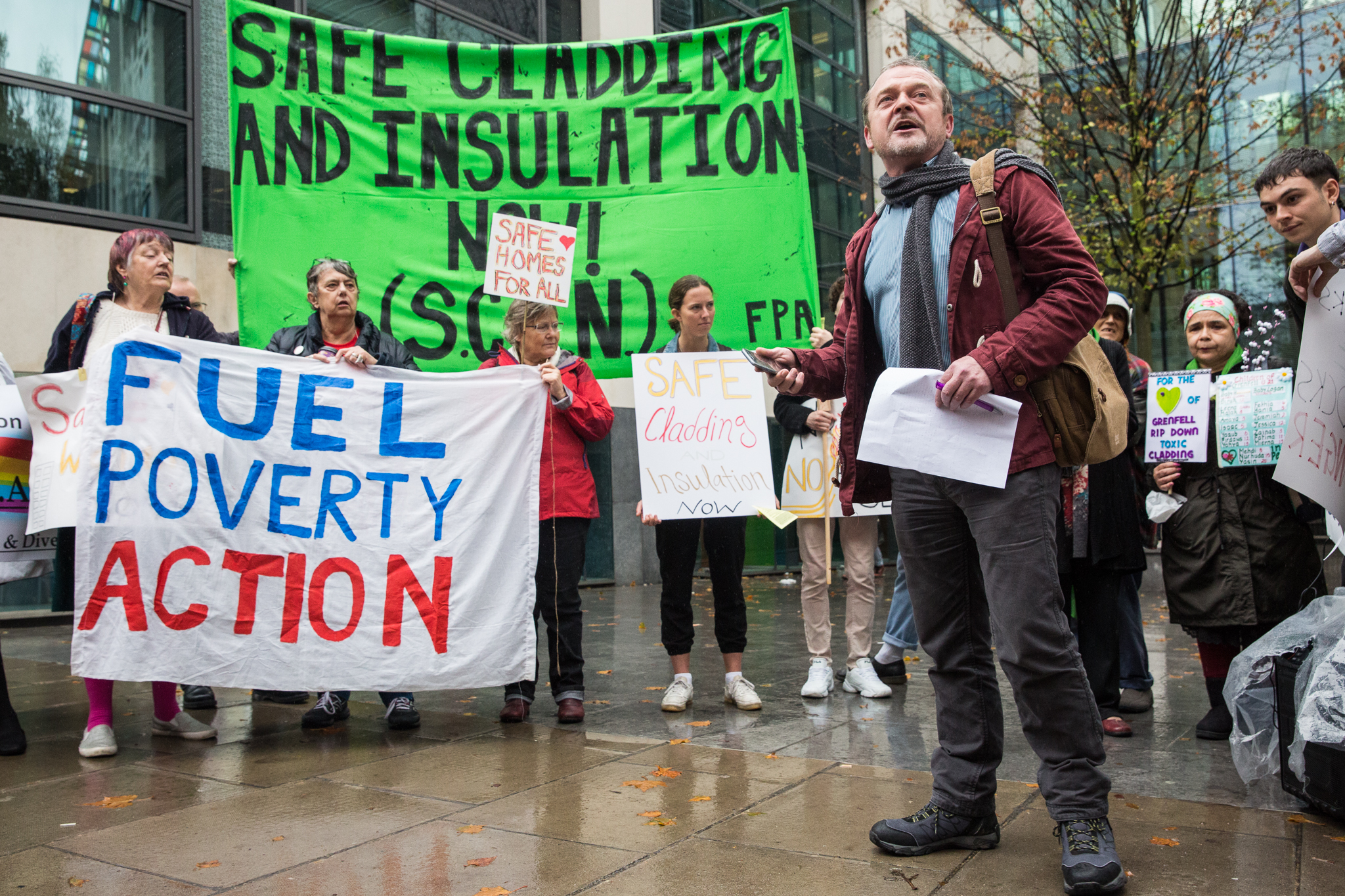 Sixteen months after the Grenfell fire, 50 people stood together in the rain, outside of the Ministry for Housing, Communities and Local Government (MHCLG), to deliver an Open Letter that demanded safe and warm tower block homes. The demonstration was organised by Fuel Poverty Action (FPA). Many of those who came spoke out. 
Speakers included residents living with Grenfell-style cladding, people from the Grenfell community, and supporters. The speeches covered a wide range of issues, including the plight of children at Grenfell, the needs of disabled people in high rise blocks, and the threat of climate change and associated extreme cold weather to residents whose insulation has been removed. The common thread of safe and warm homes tied it all together, and many, including the Fire Brigades Union, Unite Housing Workers and other major trade union bodies, pledged their support to the campaign for Safe Cladding and Insulation Now (SCIN). This support lays bare the outrage felt because thousands are still living in tinderbox homes or homes that are freezing, mould-ridden and expensive to heat when winter comes.
When the speeches were through, the letter was unrolled. Now standing at nearly 150 signatories, which includes 28 MPs from four major political parties, 5 national trade unions, 20 other union bodies and branches, NUS, 5 councillors, 44 housing and Grenfell-related groups, 16 poverty and discrimination organisations, 15 environmental and anti-fracking groups and many others, the letter carried real weight. Three people living with Grenfell-style cladding and a member of FPA walked into the MHCLG to hand-deliver the letter. The group spoke with a civil servant from the department, who took down details of specific affected towers, listened to the grievances of the residents and promised that the letter would arrive on Secretary of State James Brokenshire's desk that day. FPA are awaiting the promised swift response.
Following the hand-in, the demonstrators marched to the House of Commons and held a two hour long meeting, including Emma Dent Coad, the Grenfell MP, Rebecca Long-Bailey MP, Shadow Secretary of State for Business, Energy and Industrial Strategy, and Alison Stoecker, secretary to John McDonnell MP. Residents and MPs declared their commitment to the campaign and discussed how to – together – force action to ensure that residents are protected both from fire and from cold.
The last event of the Day of Action – 17th October – was a crowded tenants and residents meeting called by Southwark Group of Tenants Organisations. Held to highlight the lack of accountability in councils and the way tenants organisations are increasingly disempowered, beaten down, and deprived of resources when they try to campaign for better housing conditions, the event echoed some of the demands of the Open Letter.  As the Hackitt Review into the Grenfell fire acknowledged, it is residents who hold the key to housing safety.
Whilst FPA and SCIN campaign supporters demonstrated in London, Right to Energy Coalition held a solidarity action outside of the British embassy in Brussels. Marking this as a transnational Day of Action and just one of many steps to achieve safe and warm tower block homes for all.
Media coverage includes:
The Daily Mail
Worcester News 
Salford Star
Radio London with Vanessa Feltz
Morning Star (article included as a picture below)
Manchester Evening News and many many others!
Also:
Please see excellent videos of the day produced by Reel News →
3 minute version 
9 minute version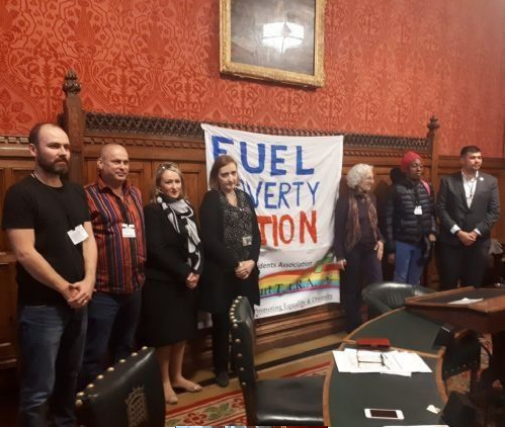 Call for June 2019 demonstrations and update from SCIN – June 2019
With the second anniversary approaching, two events – the Silent Walk on 14 June and a Solidarity March on 15 June –  will demonstrate that the 72 people who died in the Grenfell fire, and the survivors still fighting for justice, are very far from forgotten.  Please see details at the bottom of this email, and try to be there!
And please sign the petition from Grenfell United, pressing for an effective regulator for social housing, that will hold housing providers to account.  
It is time also for an update from SCIN – the Safe Cladding and Insulation Now campaign:
The Parliamentary debate on Grenfell  on 6 June was opened by Emma Dent Coad with a powerful indictment of the appalling and often racist treatment faced by the Grenfell community. 128 households are still homeless, and one active member of the community is now being held in prison over the anniversary, while none of those responsible for the deaths of so many has so far faced arrest.  
The debate that followed provides a useful resource for those concerned about the remaining danger to UK residents.
It cites an estimate that the homes of 60,000 people are still clad in flammable materials.  Hundreds of blocks are in the ACM cladding that was used on Grenfell Tower, with only a "waking watch" of workers patrolling the floors for signs of fire, intended to alert them to disaster.  Waking watches, moreover, have often been found to be untrained and inadequate, as well as extremely expensive for leaseholders or social landlords.  Residents have told FPA that too often watchmen do not walk the floors, and some whistle-blowing personnel themselves have told us that they cannot offer safety, or that they are not even properly equipped.  In many cases the private firms contracted for this key role have had to be sacked and replaced.
The majority of tower blocks still clad in ACM are now in the private sector, where leaseholders organised in UK Cladding Action Group have only just now won a government promise of £200 million for remediation.  Just a year ago, the £400 million for social housing was announced right before the first anniversary, and shortly after we'd launched our Open Letter to the government about it – we had to redraft and recirculate a new version.  Similarly, UKCAG's Open Letter was immediately made out of date by a government announcement.  Their campaigning has been startlingly effective, but many questions remain about the level of funding and how and when it will be accessed.  In the meantime, Housing Minister Kit Malthouse said in the debate that the government have allocated just £259 million of the £400 million announced for social housing, and they are not anticipating any further claims.
While many people think that social housing cladding is sorted now, this is far from being the case.  The Building Safety Programme Monthly Data Release reports good progress, but many tenants have been left behind.  See this shocking account by a resident of one of nine Pendleton Together tower blocks in Salford. Here, tenants who are attempting to organise about dangers that closely mirror those at Grenfell Tower have been subject to threats and intimidation – just as Grenfell residents were.  
Moreover, while Grenfell-style ACM cladding has been removed from many blocks, the government has delayed, and delayed again, the necessary tests on other kinds of potentially combustible cladding — results were due in the autumn, then in the spring, and now "by summer".  It has been estimated that there are 1,600 properties — both social housing and private — on which the material is not ACM, but could be as dangerous.  Yet these homes are not even being identified.
The 6th June debate helped highlight this issue but much more pressure is needed.  Equally important is the issue of buildings below 18 M (6 storeys) high, including not only public and private blocks of flats but schools, old people's homes, and hospitals.  The plight of lower buildings is finally beginning to attract more support. (We are trying to get breakdowns of statistics on this and non-ACM cladding through a Parliamentary Question.)
The debate also highlighted the need not only for remediation — and sprinklers, and an end to single-staircase blocks — but wholesale change in the way the construction industry is regulated and monitored.  
However, another key question was not mentioned in this debate: the danger residents have from cold and damp when cladding has been removed, but not yet replaced — a situation that can go on for months.  FPA has been highlighting this nightmare for over a year now.  Together with Tower Blocks UK and Disabled People Against Cuts (DPAC) we wrote directly to housing associations and local authorities before Christmas to ask for their policies (See Inside Housing report here or here).  
Some have responded with a promise that if cold proves to be a problem, they will compensate residents and ensure that they can keep warm.  Yet few so far seem to have done this.  Camden is one example. Others have provided inadequate amounts eg £15/week in Barnet where the extra costs far exceeded this figure, or have paid compensation into rent accounts, where it can be swallowed up by arrears.  Others, like Westminster, decided there was no need for compensation because residents' bills did not reflect a major increase when cladding was off — ignoring the fact that many people simply cannot afford to risk keeping the heat on in the hope that their bill will be covered.  Salford residents too have been told they must offer proof. As demanded in our original Open Letter to the Minister, safe heaters should also be provided to residents, so they don't have to go out and buy the cheapest — and possibly least safe — from the local second hand shop.  
Since there are still so many more buildings with combustible cladding — buildings of different purposes and heights and different kinds of materials as well as different tenures — and since progress is painfully, unacceptably slow, this crisis looks like continuing for a long time to come.  Some landlords have delayed the removal of cladding until after the winter — putting residents in a painful Catch 22. The best solution is clearly for cladding to come off and go  on again immediately.  Some social landlords have achieved this, eg in Islington, and two years on from the fire excuses like delays in the supply chain are now wearing thin.  Some, as in Wandsworth, have even taken cladding off and replaced it floor by floor – necessitated in this case because it was attached to the windows. 
But some tenants wait for months to have cladding replaced, only to have removal scheduled just when it's getting cold.  And many social landlords did not bother to even reply to our letter. They need reminding that each year nearly 10,000 people in the UK die when they cannot afford to heat their homes.
Pressure also needs to be increased to meet residents' demands on the toxicity found in a wide area around Grenfell Tower — and to ensure that cladding and insulation applied in future is truly safe – which means non-combustible, and non-toxic.  
In the meantime, and most urgently, please show your support for the Grenfell survivors and community on 14 and 15 June.  
Grenfell Silent Walk on Friday 14 June
Spruce Court, Salford: A mirror image of Grenfell Tower – July 2018
Mirror image of Grenfell Tower – Spruce Court Salford fears disaster – July 2018
Cladding: A National Emergency – FPA Briefing – 5 March 2018
This briefing brings together all of the research we've done on cladding, covering the following topics:
The scale of the cladding crisis

How many buildings currently fail to meet building safety regulations regulations. Case studies of buildings that have had cladding removed post Grenfell.
Illness and death caused by unsafe buildings (from cold and fire)

A timeline of building regulation changes leading up to Grenfell
Private interests over public safety – details of companies profiting from unsafe housing
What the government is (and isn't) doing post Grenfell
Conclusion and demands by residents and Fuel Poverty Action
Quotes from public figures and residents living in affected housing.
You can read the full report in the research section of our site, or download a PDF file (recommended) here.
Public Meeting on housing safety post Grenfell – January 2018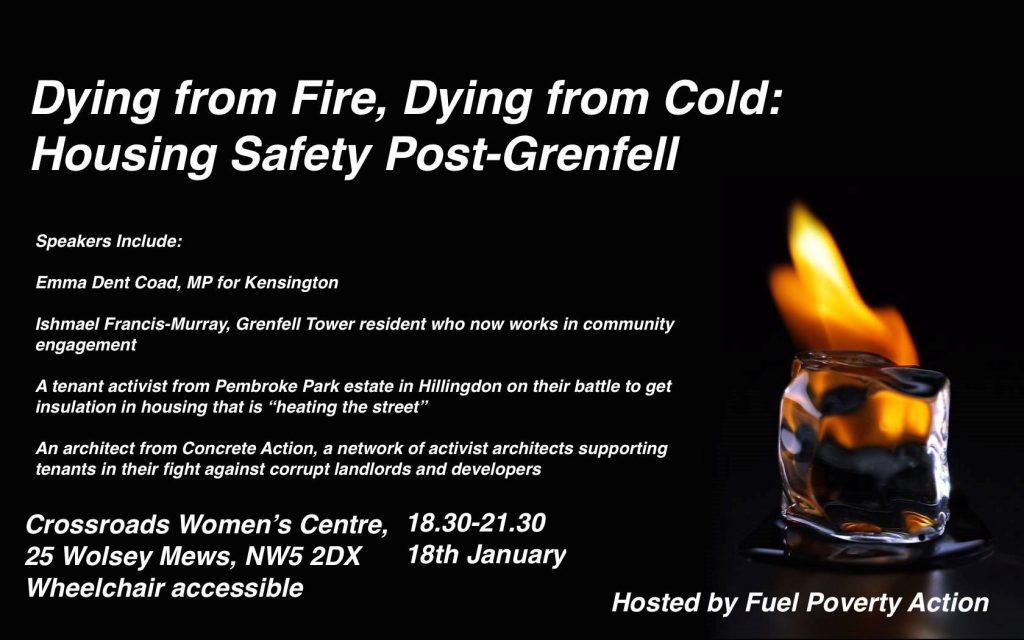 On January 18th 2018, Fuel Poverty Action hosted an evening of discussion about the cold, fear and poor living conditions faced by residents of many housing estates in the wake of Grenfell. You can read the full report of the discussions that took place in the meeting here.
Other work by FPA
Fuel Poverty Action in the media
Ruth from FPA speaking about winter deaths and cladding on the BBC
–
Coverage of our SCIN Day of Action

Morning Star
Manchester Evening News and many, many others!
---
[accept_stripe_payment name="Donate" button_text="Donate"]