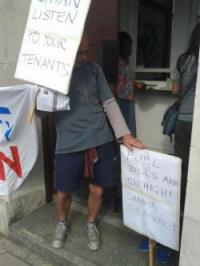 fpa admin
September 16, 2014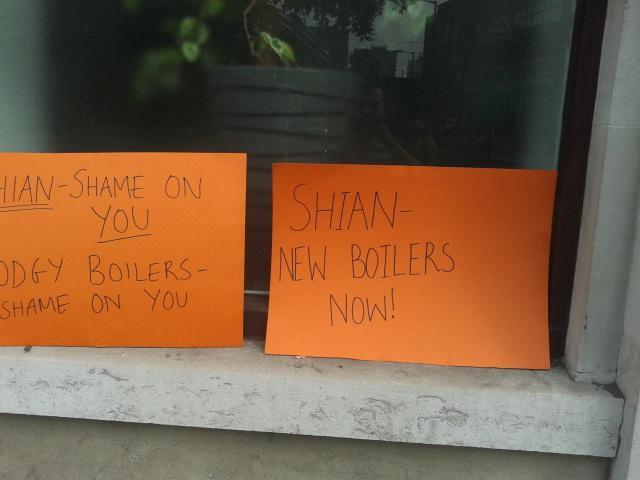 See also Haringey Housing Action Group's great blog on the action here 
This afternoon Haringey Housing Action Group and Fuel Poverty Action paid a visit to social landlords Shian housing association to demand they take action to replace dodgy boilers that are guzzling up residents' money.
The two groups were supporting a member of Haringey Housing Action Group and other residents on her estate who have been paying extremely high energy bills because of boilers which are inappropriate for their properties. We spoke with residents in new build housing (which should be built to higher energy efficient standards and therefore be cheaper to heat) who are paying quarterly electricity bills of £500 for a one bed flat. Another person told us how they are having to top up their prepayment meter with £10 every two days even before winter has arrived.
 Social housing tenants across the country have had problems with the Nibe Fighter 360p boiler and some housing associations have had them replaced with more suitable energy efficient boilers and given residents compensation. However, Shian housing association have failed to respond to concerns raised by residents over 2 years ago about the high bills which are putting residents into fuel poverty. Haringey Housing Action Group visited Shian's office back in January of this year to raise these issues.
Faced with this inaction by Shian, residents and their supporters visited their office on mass this afternoon to make their concerns heard and get a guarantee that the issue would be finally resolved.  Residents and supporters made their presence felt both inside and outside the office. However, yet again, the housing association refused to engage meaningfully with the residents and their supporters. The director refused to leave his office even for a few minutes to speak face to face with residents who have been struggling with high bills for years because of their inaction. Although present at the office, staff said they could not book an appointment for residents to speak with the director but would call them to do this tomorrow. Staff showed disrespect and rudeness to the group, telling the group that someone would come down to speak with them and then later saying that what he meant by this was that had called the police.
These attempts to intimate us won't work! We will continue organising together and keeping the pressure on until residents' are provided with appropriate energy efficient boilers so that they can afford to heat their homes without facing financial hardship.
Why not send Shian a tweet showing your support for the Haringey residents and asking them to sort it out!
Tweet #fuelpoverty
---