Yesterday, in Dublin, thousands of people took to the streets, as they have done several times over the last couple of months.  Why? In the words of what has become a viral youtube hit, "No Water Privitisation! Irish Water's Not for Sale!"
How and why have struggles relating to water access — and basic utilities including energy — become so key in 2014?

Water in Ireland has always been provided as a basic free-at-point-of-use service, funded by general taxation. But people are now fighting back against the introduction of water meters and taxes, which will introduce charges for this fundamental right. In an inspiring show of international solidarity, Irish protesters have been joined by activists from Detroit campaigning against water cut-offs.



In 2000, water privatisation sparked huge protests in Bolivia. But how and why have struggles relating to water access — and basic utilities including energy — become so key in 2014? Why have the campaigns so widely caught public imagination, and been lead on the ground by grassroots, working class and people of colour communities? How has a combination of mass protest, direct action blockades and practical, on the ground delivery of water created formidable grassroots organisation? What can we learn — about the demand for basic utilities as human rights, about tactics for resistance to government sell-offs? Under the banner of 'From Ireland to Detroit to Palestine: Water is a human right', could water become a new grassroots frontline?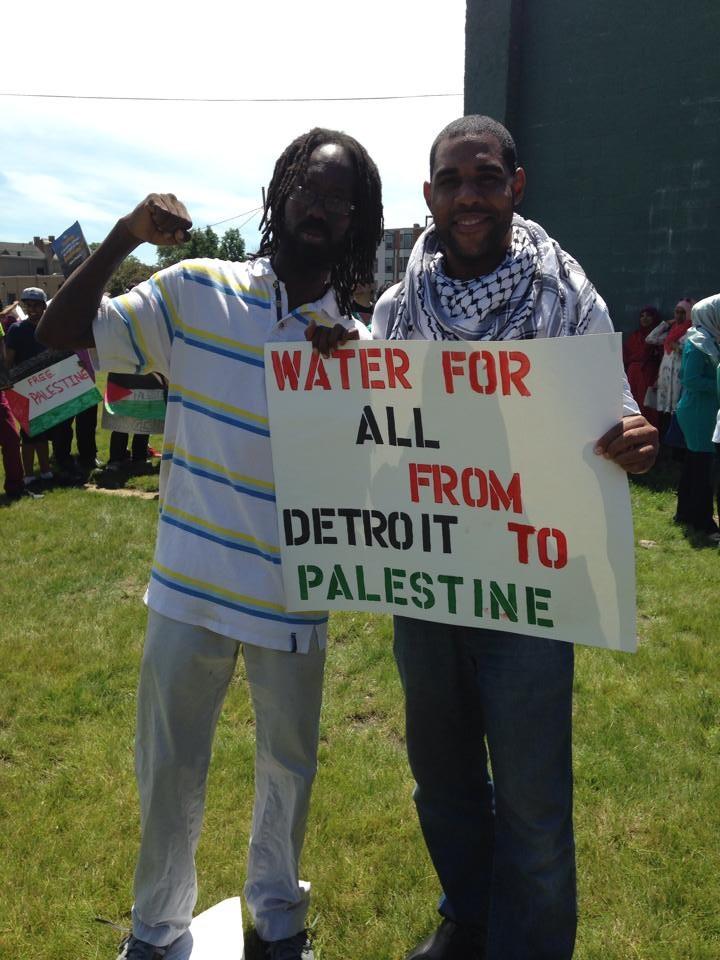 In Detroit
The US city of Detroit, once the power house of the US car industry, declared itself bankrupt in 2013. What happened next was typical in times of crisis and austerity, with essential services stripped. The results were stark: only 40% of the city's streetlights functioned and it took over an hour to get any kind of response from the police even in emergency situations. What came in 2014 was even more shocking — a declaration by the city to cut off any households in debt to the city's water department.
If the Detroit Water Department get their way an estimated 40% of the city's buildings will have their water switched off by September 2015 — that's more than 70,000 homes — with an estimated 200,000-300,000 people living inside them. Already 27,000 homes have had their water cut off, with an estimated 100,000 people now without access to water in their home.
There's no doubt that Detroit is poor. More than 50% of the remaining 700,000 residents (in 1950 the city held more than 2 million people) live below the poverty. What's more, the water bills are higher than almost anywhere in the US.
There have been mass protests in Detroit with thousands of people coming out to march and  blockades in neighbourhoods to stop the cut-off vans coming through. Perhaps the most notable player to emerge is the 'Detroit Water Brigade' . They are a 'volunteer-led alliance of compassionate citizens'. Having just had a brief flick through their website, their staff team of 7 is mostly compromised of people raised in Detroit and people of colour, it has a near 50/50 gender balance and mothers who have their water cut off are among the team. The DWB have 5 key demands, which combine immediate demands with longer term political aims: stop all water cut offs immediately; allow all Detroiters to settle their bills and forgive all late fees; keep the water department as a public utility; and institute a water affordability plan.


They combine advocacy and pressure with on the ground work. They deliver thousands of  bottles of water to neighbourhoods every day, and in a similar model to food banks here, there are now 'water distribution hubs'. Often, these are inside people's homes, opened up to others in their neighbourhood. One mother, Detroit resident and now DWB activist, has opened her home up as a 'water distribution hub' and said in a Vice video from earlier this year:
"How dare you rob a city, a state that's surrounded by nothing but water when that's what needed? They can always tell me 'go pay it' but if I have to choose between feeding my kids or paying a water bill — I think my babies are gonna eat, and I'll go to my neighbours' house to get water. I'll borrow a bucket." Sonia Brown, Detroit Resident, and Detroit Water Brigade activist.


As with anti-debt activists in Spain, or Syriza-run food banks in Greece, the alternative to the status quo is being delivered, here and now, in the streets, when it counts. Political statements — 'water is a human right' and 'water should be a public utility' — are backed up with practical action actually making a difference to people's lives.
Which is a good job, because it's widely thought that the cut offs are a 'prelude' to water privatisation, which is being pushed across the US. Whilst the US may seem like the homeland for privitisation, there are actually still dozens of public utility companies across the US — electricity and water companies. Perhaps the practical work done by the likes of DWB will see a greater, wider political resistance to privatisation when its time comes.



In Ireland
Over in Ireland, water and sewage services have long been paid for out of general taxation. However, this year,  Irish Water — a new 'semi-state' body responsible for delivering and charging for water was created.
Earlier this year the government announced that the water charges would amount to 176 euros (£140) for a household with one adult — or 278 euros (£220) for a home with two adults annually (for those without meters). However, after mass grassroots mobilisation some concessions have been ceded  including 'caps' on annual charges — there were fears that bills could amount to up to 800 euros for bigger households — a Water Conservation Grant of €100 per year, and a push back of the beginning of charges from October 2014 to January 2015.
Like Detroit, a widely held belief is that 'Irish Water' will be privatised. And Irish communities are right to be worried about this when they look across to what privitisation of water has meant in Britain. The average household bill for water in Britain in 2009–10 was 42 percent higher than in 1989, before accounting for inflation.
Resistance in Ireland to new water billing and water meters has been huge, and contagious. On a day of action this autumn there were more than 100 protests across Ireland. Working class communities across Ireland  are repeatedly blockading their streets to stop the Irish Water vans with meters doing installation work. In Togher, County Cork, residents held the work off for 3 weeks — eventually forcing Irish Water to give up and leave the area. Tactics have included people parking their cars over water valves, blockading streets around the clock and mass refusals to fill in and return data forms to Irish Water. One protester even climbed into an excavation to stop the work.  Irish Water have gone to court to get restraining orders against those blockading.


Irish Water campaigns include: Can't Pay, Won't Pay, Boycott Irish Water, and Right2Water
New water taxes compound the impacts of 6 years of austerity in Ireland — there have already been public spending cuts and real wage cuts of up to 13 per cent. Meanwhile, the Irish government maintain a low corporate tax rate of just 12.5%, well below the European average of 21%.
"I have never seen anything like this before," says Brendan Ogle-a Unite trade union official who has set up 'Right2Water' -in the FT.  "It isn't union-led, it isn't led by political parties. There is something different here."
What we can learn?
Like the housing crisis in London and the relentless evictions that currently rumble on, the urgency of  cuts-offs and meter installation creates the need for immediate community action and mutual aid. The contradiction of austerity and modern capitalism is that while it forces people ashamedly into their homes to be cold and hungry, it also forces people to get to know their neighbours, to stand up for each other.  These struggles are also seemingly not lead by the same traditional, professional activists who are perhaps more influential in other, more well-established struggles. Instead of the Cambridge graduate doing the lobby work that changes a piece of legislation to make things a little fairer, it is the person who climbed inside the hole on their street to stop the digger installing the meter or the woman who opens up her house as a 'water distribution hub' who becomes the face, the voice and the advocate for change. You don't need a degree to protect your neighbourhood, family or yourself.
It's difficult to know whether to feel just completely crushed by the need for 'water distribution hubs' in the richest country in the world, or encouraged that community action will ensure that people can drink and wash. It is certainly ironic that private, bottled water companies will be the ones to benefit from the cut offs as the need to buy huge units of bottled water grows .
What remains to be seen is whether the anger and action over water cut-offs and charges will translate into a bigger campaign about access to water, water privitisation and austerity in general. It should do. But if traditional leftist groups are too busy writing irrelevant manifestos and dreaming of revolutions a hundred years back it won't. People taking action on water don't need the Left, they are already doing politics, they are already making change — the Left desperately needs them though, even if it doesn't know it yet.
These protests also lend us useful tactics. More than 100,000 electric or gas prepayment meters are installed in the UK every year on a 'warrant visit'. This means the energy company has applied to a magistrates court to install the meter against the will of the household (who will be in debt to them). If street blockades can stop water meter installations then they can stop forced prepayment meter installations in homes. If the Detroit Water Brigade can make sure homes don't have to go without water, how can we ensure homes don't have to go without energy?
These struggles around water also create bigger questions about utilities — who owns them, how much they should cost and should we see them as human rights? If access to water is essential to human life, then is access to energy? Shouldn't we all be able to cook, clean and keep warm? Shouldn't private profit have absolutely nothing to do with us being able to do that? When our energy is all coming from the sun, wind and waves, will there ever be grounds for anyone to profit from this? Fuel Poverty Action's Energy Bill of Rights goes someway to answer that question. Access to energy should be a right, generated from clean renewables, not poisonous fossil fuels — and no one should be cut-off.
If we don't step up and defend our utilities as basic rights, then profit-hungry companies and corporatised govenments will be sure to strip them away from us. In a global era of austerity and privitisation, the battle for basic utilities is on.


Further reading:
http://america.aljazeera.com/articles/2014/12/9/irish-water-protestsausterityhumanrightsday.html
http://www.ft.com/cms/s/0/969afcc8-6be4-11e4-b1e6-00144feabdc0.html#ixzz3LV6qbTJ7
http://detroitwaterbrigade.org/40-detroits-population-water-shut/
http://www.thejournal.ie/detroit-water-1824761-Dec2014/
http://magazine.good.is/articles/detroit-ireland-water-rights
http://www.bbc.co.uk/news/world-us-canada-29697767
http://www.theguardian.com/cities/2014/oct/17/united-nations-detroit-water-cities-riot-protests
http://www.bbc.co.uk/news/world-europe-30118126
http://www.bbc.co.uk/news/world-europe-29859942
http://www.independent.ie/irish-news/meters-removed-by-irish-water-after-three-week-standoff-in-housing-estate-30274126.html