Since the Grenfell Tower disaster in 2017, Fuel Poverty Action has been working on the issue of Cladding and Insulation. Our homes need to be safe and warm.
On this page you can find a summary of all the work we've done on this topic, as well as links to  pieces that have been written about it in the media.
Cladding: A National Emergency – FPA Briefing
This briefing brings together all of the research we've done on cladding, covering the following topics:
The scale of the cladding crisis

How many buildings currently fail to meet building safety regulations regulations. Case studies of buildings that have had cladding removed post Grenfell.
Illness and death caused by unsafe buildings (from cold and fire)

A timeline of building regulation changes leading up to Grenfell
Private interests over public safety – details of companies profiting from unsafe housing
What the government is (and isn't) doing post Grenfell
Conclusion and demands by residents and Fuel Poverty Action
Quotes from public figures and residents living in affected housing.
You can read the full report in the research section of our site, or download a pdf file (recommended) here.
Fuel Poverty Action in the media
Public Meeting on housing safety post Grenfell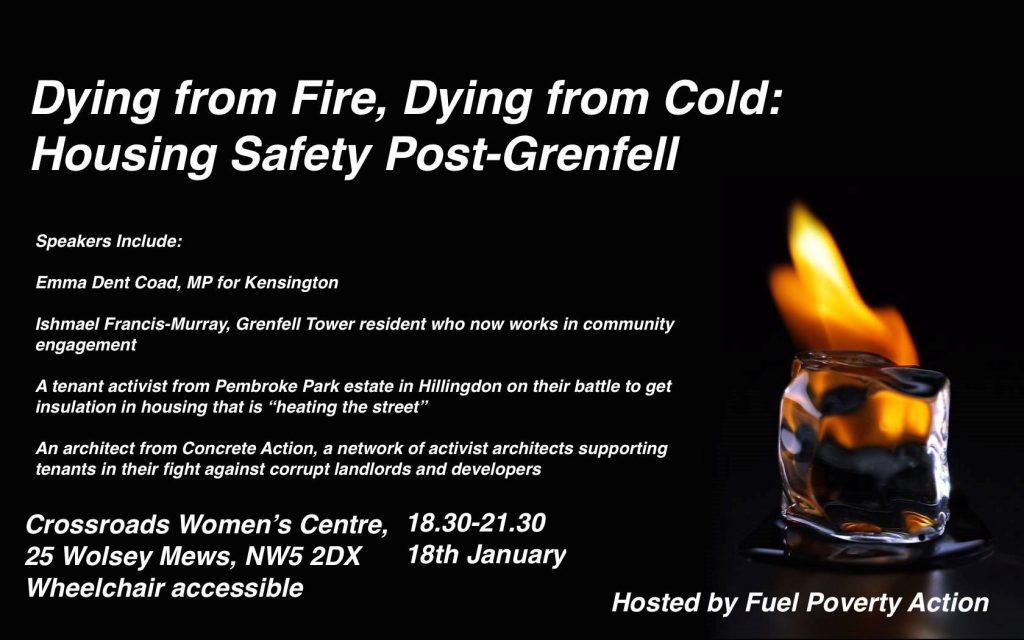 On January 18th 2018, Fuel Poverty Action hosted an evening of discussion about the cold, fear and poor living conditions faced by residents of many housing estates in the wake of Grenfell. You can read the full report of the discussions that took place in the meeting here.
Other work by FPA
Ruth from FPA speaking about winter deaths and cladding on the BBC
Resources from around the web
Whilst researching this topic, we've found a number of invaluable news articles, government reports and blog posts. The ones we found particularly useful are included below. We aim to keep this document up to date with any new things that we find.

What can I do?
The best time to get cladding replaced is now, before next winter!  
Promote the campaign: Share the Petition, the Video, and the Demands.
If you are directly affected by these issues, get in touch!
Donate: Fuel Poverty Action is unfunded. A donation from last year has sustained us but will shortly run out.  If you want the campaign to continue, for protection from fire and cold, please donate here- with a button.
FPA also want your help with organising this campaign.  Please get in touch!  We need help with:
Contacting residents and residents associations in affected tower blocks
Organising events, demonstrations, direct actions
Fundraising – much needed and also a good way to spread the word
Promoting the campaign through trade unions and student unions
Enlisting the support of prominent individuals
Lobbying local government and Parliament. Write to your MP, and please send us a copy.
Contributing to our research on the causes of this disaster
For more on this campaign see our parliamentary briefing, Vice article with social housing residents' experience, and more here.

[accept_stripe_payment name="Donate" button_text="Donate"]