Yet Again! Back to MHCLG for Safe Insulation and Cladding
On Thursday, 17 October 2019, Fuel Poverty Action (FPA) delivered an Open Letter signed by over 80 organisations and MPs to the Secretary of State for Housing, Robert Jenrick, to demand safe cladding and proper insulation. 
Grenfell MP Emma Dent Coad, along with residents affected by dangerous cladding, poor housing and missing insulation, helped deliver the letter, surrounded by a diverse and lively crowd of over 40 people including representatives of the NEU, All African Women's Group, Biofuelwatch, the Global Women's Strike, Sustainable Hackney, XR Youth, Lambeth Pensioners Action Group and the National Pensioners Convention. The date marked the anniversary of FPA's previous Open Letter to Mr Jenrick's predecessor, which was delivered on 17 October 2018.
The new letter notes that people in the UK, both social housing tenants and leaseholders, are still forced to live in buildings surrounded by the same type of flammable cladding that Grenfell Tower had. The Government has failed to meet the commitments it made a year ago in response to the previous letter.
The event was also timed to coincide with Extinction Rebellion's October to enable climate activists to lend their support to demands – like insulation – that reduce carbon emissions while also making it possible for people on low incomes to keep warm and bring down bills. In response, there was a strong support and presence from Global Justice Rebellion.
Just 49% of homes in England had insulated walls in 2017, and UK government energy efficiency programmes have been slashed by over 90% over seven years. As a result, homes are responsible for one fifth of UK carbon emissions, and around 9,000 people die from the cold each year.
Signatories of the new letter include six national trade unions, as well as local branches, climate groups, tenants and residents associations, academics, councillors and nine MPs from three political parties: Labour, the Lib Dems and the Greens.
Shadow Cabinet member Rebecca Long-Bailey was among those who signed the letter. More than two years since the Grenfell Tower fire of 14 June 2017 claimed 72 lives, many of Long-Bailey's constituents are still forced to live in eight buildings that were clad under a PFI scheme in the same ACM cladding as Grenfell. Both the government and the housing association have refused to pay for its replacement. Pendleton resident Graeme Langton came down from Salford to deliver the Open Letter. Suspended by the landlord as TARA chair, after repeatedly challenging them, he said the government should get the flammable cladding off now, and argue about the money later.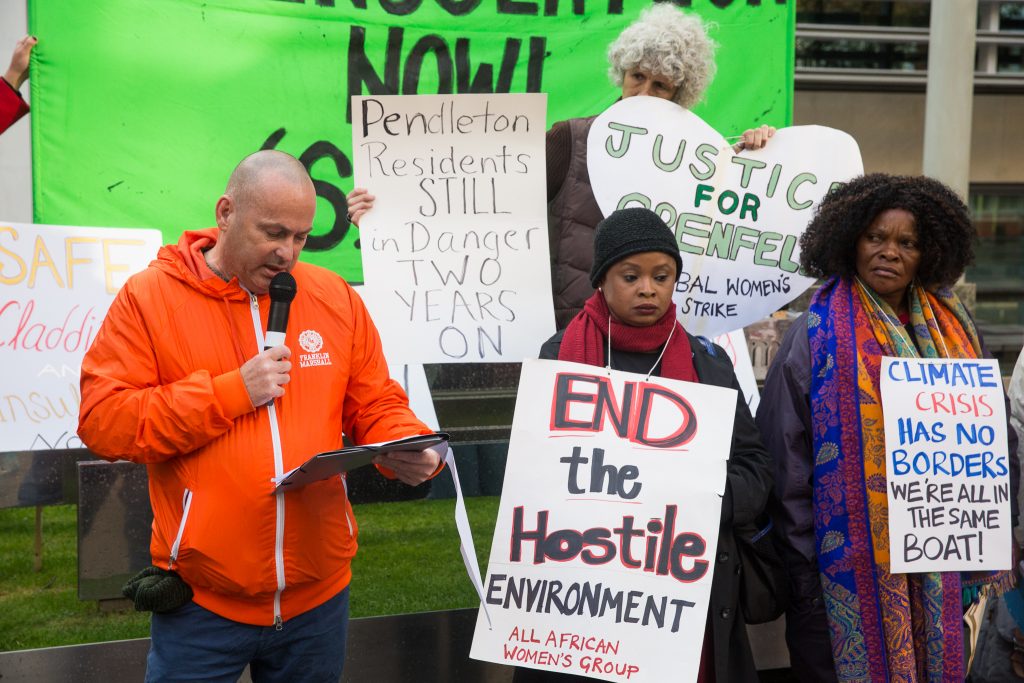 The fight goes on for SCIN: Safe Cladding and Insulation – Now!
This event received coverage in the Morning Star, Inside Housing and the Salford Star.
Open Letter on insulation and cladding delivered to MHCLG on Thursday, 17 October
Oct 2019 Open letter to MHCLG re Insulation and Cladding incl. list of signatories (06.11.2019)

Update: Ministry replies to October 2019 Open Letter on Cladding and Insulation
Response from MHCLG to Oct 2019 open letter