FPA has been fighting since the Grenfell fire for justice for survivors and to make sure that other buildings with combustible cladding have it urgently replaced. In 2018 we started the SCIN campaign for Safe Cladding and Insulation Now, which attracted wide support. We emphasised that while cladding and insulation are off, which can be for months, residents must be protected from the cold.
The government agreed funding for replacement of one kind of combustible cladding, the kind that was on Grenfell, ACM. Many social housing tower blocks and some private, leaseholders' blocks, have now had the cladding replaced.
Many others however, are still in danger, including hundreds with other kinds of flammable cladding, buildings under 18M high, many student residences, and others that have just been left behind, like the Pendleton estate in Salford.  For thousands of residents, the crisis is set to continue for years.
Safe Cladding & Insulation Now Update November 2020
Apologies for the length of this update but there is a lot happening.  For things you can take part in or take action on please see Building Safety? , Making Green Come True , Cladding finally off — but winter is coming! , and, at the end, "Dictating to the Estate".
* * * * * 
Building Safety?
We want first to draw your attention to an important new initiative by residents groups and campaigners, including Grenfell United, the London Tenants Federation, UK Cladding Action Group and Tower Blocks UK, with the support of the University of Leeds, aiming to influence the government's proposed reforms to high-rise building and fire safety regulation in the wake of the Grenfell disaster..  The Building Safety Bill is currently in draft form and has just been through a pre-legislative inquiry held by the Housing, Communities and Local Government Select Committee, while the Fire Safety Bill will soon reach the Report Stage in the House of Lords. Related to both are proposed fire safety reforms that have recently been consulted on. There are some encouraging aspects of this reform package, not least the more stringent regulatory enforcement system for high-rise residential buildings under a new Building Safety Regulator with tougher penalties for non-compliance. However, there are many flaws with the Building Safety Bill and the fire safety reforms being laid before parliament:
The proposed scope of the Building Safety Bill excludes buildings under 18 metres as well as care homes, prisons, detention centres, hospitals, hospices, hotels, hostels, and guest houses despite growing evidence of the fire and structural dangers of such buildings.
Original proposals for a very strong enforcement system that would prevent new buildings from being occupied unless compliant and allow citizens the right to bring private legal claims for a breach of building regulations have been inexplicably dropped.
The Draft Building Safety Bill is very vague on how existing buildings will be integrated into the new system
Despite promising to put residents at the heart of the new system, there are hardly any new rights for residents but a whole load of responsibilities including the requirement that leaseholders will be financially liable for an uncapped Building Safety Charge to pay for safety measures
The rights of residents to evacuate in the event of a fire are still being ignored: the government is actively undermining the Grenfell Inquiry recommendations to ensure that high-rise buildings are fitted with fire detection and evacuation systems, and that all landlords prepare Personal Emergency Evacuation Plans (PEEPs) to help vulnerable and disabled people and anyone else whose ability to self-evacuate may be compromised.
While consultations have closed (see FPA's submission on the FSO, based on a campaign template, here) it is still possible to influence the Building Safety Bill and the fire safety reforms — and every closed loophole could save lives. The residents' initiative will shortly be preparing model letters for people to write to their local MP and councillors to encourage them to put pressure on Ministers and relevant parliamentarians. SCIN will update supporters in due course.
If you are interested in getting involved, please get in touch with Phil Murphy – [email protected]
Making Green Come True — 5 December 2020
We warmly invite you to our half-day online conference, titled Making Green Come True where the proposals now before Parliament will be on the agenda, along with other issues related to both cladding and insulation.  The conference will give residents an opportunity to highlight the gap between green promises and reality, share experience, build alliances, and add to pressure for accountability in housing.  Beyond the critical issue of flammability it is crucial to make sure that both cladding and insulation are non-toxic, and that they do their job — in many cases inappropriate retrofits have actually left homes colder and damper than before.  Plus, the materials they use may be carbon-intensive to extract, produce, and transport, cutting into carbon saving.
There will be a second Making Green Come True event in the new year, focusing on heating.  In both sessions  will be a mixture of people with direct personal experience and people like architects and renovation specialists who have other kinds of expertise. Campaigners on housing, safety, pensioners' issues, energy and the climate are welcome, as are trade unionists.
Please register via the link on our website.
Cladding finally off — but winter is coming!
Meanwhile, the fight goes on to get flammable cladding of all sorts off of buildings of all heights.  The residents of nine Pendleton Together tower blocks in Salford, have finally had ACM cladding removed from blocks which are a mirror image of Grenfell Tower, and have all the same fire risks too.  After three years of sleepless nights it is a huge relief.  But residents have had no information on when the cladding will be replaced.  And after all this time, the cladding has been removed as we go into winter — and a winter of Covid-19.
Here, as elsewhere, FPA have been raising the issue of how people can keep warm without cladding or insulation.  The landlord's response has been an offer of £25 per month — or 83p per day — for additional heating costs.  Experience of other blocks shows that when insulation comes off many people cannot keep warm even if they keep the heating on 24/7 — and who can afford to do that?
In the Pendleton Together flats,  there are additional problems with many people's heating systems — they have NIBE heat pumps which have not functioned properly for years. (we are trying again now to get action on this).  Some people say they just never put their heating on.  But what will that be like, when the building is open to the elements?  Flats on high floors are badly exposed to wind.  And other such tower blocks have found that, after cladding removal, there is not only condensation but rain penetration as well.
Please tweet in support of Pendleton residents: "@SalfordCouncil and @salford_mayor,  how long are the Pendleton high rise blocks going to be without insulation? It's getting really cold."  See the Salford Star article!
If you know of other blocks where people have been offered — or NOT offered — compensation for extra heating costs, please get in touch — comparing what is happening in different estates and areas can be crucial to improving what people get.
Tens of thousands still in danger
The government's Building Safety Programme Monthly Data Release looks only at high rise buildings over 18 metres (6 storeys) high, with Grenfell-style ACM cladding.  The records for 30 September 2020 show 456 such buildings identified as unlikely to meet Building Regulations.: The buildings are
155 social sector residential,
207 Private sector residential,
54 Student accommodation blocks
30 Hotels  and
10 Publicly owned buildings.
The startling thing is that these figures are virtually identical with the statistics for September 2019 (An exception is where, in the private sector, more buildings have been identified as unsafe.)  Not only has there been no progress during the pandemic — there was hardly any before that, either.  In a hard-hitting report The parliamentary Communities and Local Government Select Committee suggest "Any residential building where works have not commenced by December 2020 should be subject to a Compulsory Purchase Order". 
All of these figures are dwarfed by the huge numbers of homes which still have other combustible materials on their external walls, and homes which are in buildings of under 18 metres high.  The same parliamentary Committee says says many of these buildings also have further issues like inadequate fire breaks (34%), and combustible or missing insulation (30%).
Written evidence submitted by the National Fire Chiefs Council [CPR 017], May 2020.notes that: 
"Several of the worst recent fires in residential blocks have taken place in buildings under 18 metres, such as at the Cube student residence in Bolton. There are estimated to be 100,000 buildings between 11 and 18 meters high."  For a  personal account of one such fire see here.
On 11 March 2020 the Chancellor announced in the Budget a £1 billion Building Safety Fund  for the removal and replacement of unsafe non-ACM cladding systems in buildings over 18M.. Building owners and managers are struggling to apply for the Building Safety Fund before its tight December deadline, sometimes impeded by the developers.  In New Festival Quarter, Tower Hamlets, for instance, the developer Bellway undertook their own survey and (according to the witness report) found missing cavity barriers, combustible insulation and other issues, as well as the ACM cladding now being removed.  But Bellway are currently refusing to share their findings with residents – including information important for the funding application
Importantly, a study has highlighted how "Three major house builders have made combined profits of £5.2bn since the Grenfell Tower fire despite leaseholders in properties they developed facing life-changing bills for fire safety repairs"
Residents' mental health is still in pieces from living in flammable buildings, and many are also paying a high price financially, e.g. for 24-hour fire watch services.  The UK Cladding Action Group, with backing from Inside Housing and from Grenfell United, have been working hard to highlight the cost to leaseholders.  .
Sadly, the problem is far from solved for social housing tenants, either, and the Parliamentary Committee raised doubts over whether their landlords would have access to the new the new Building Safety Fund.  Graeme Langton, a social housing tenant in Salford says,
"I find myself being called on day in and day out to give emotional support to members of my community currently at their wits end. We have seen a vast increase in mental health self referrals – some have been admitted several times during lockdown.
Of course Covid 19 has affected everyone across the country… but here in inner-city Salford many feel that they are not just suffering but are being ignored and left in limbo due to the fiasco led by Salford City Council / Together Housing / and Pendleton Together. Only now after several years of fighting to get the Grenfell style cladding off, is it being removed. But no works plan to replace the cladding and no confirmation as to the quality or standard of what this new material might be."
A slew of heavyweight organisations have thrown their weight behind the fight, with the End Our Cladding Scandal campaign relaunched in September 2020.  But the long and the short of it is that the government has put £1.6bn into removal work but has said this will be the limit of the funding it provides. The full cost of remediating affected buildings around England is estimated at £15bn.  The new  legislation in the pipeline now is primarily targeted at new builds, not existing buildings. Much will depend on the campaign we flagged up at the start of this Update.
No Justice in Sight
While the fight goes on to prevent more loss of life, Grenfell Tower survivors and their community are battling for justice for those whose lives were ended or turned upside down on 14 June 2017.  In the long-delayed public inquiry they have repeatedly been knocked back by being excluded from the room, by the choice of panellists — and months of an empty chair, and by the decision that oral evidence cannot be used in the prosecution of any individual. The fear of seeing those responsible walk away free is very real.
The evidence coming out of the inquiry is damning and heartbreaking. Among much else, it has heard
(Yet we are a very long way from seeing anyone in prison for these decisions.  And meanwhile, the same practices continue all over the country, including stone-walling and demonising residents who dare to complain.
"Dictating to the Estate"
Very much to the point, then, we're glad to pass on this message from the team now working on a dynamic expose of what really happened at Grenfell:
"Dictating to the Estate" is a documentary play about events leading up to the Grenfell Tower fire. It uses blog posts, emails and council records to tell the story of the refurbishment of the tower and residents' attempts to hold the council to account. At the same time, it places these events in the wider context of austerity, social cleansing and deregulation.
Following on from the successful public readings we did last year, the new production will have a new cast and an extensively rewritten script, incorporating information that is currently coming out of the Inquiry. Although it has been delayed a number of times by the pandemic, it will now be coming on stage in November 2021 at the Maxilla Social Club in North Kensington, just a few minutes' walk from Grenfell Tower. We will also be recording and releasing a free digital performance that people can watch online. 
The production is working in partnership with Fuel Poverty Action's Safe Cladding Now campaign, and will include public talks on issues of fire safety in its satellite events. 
We currently have a crowdfunding campaign underway to raise the remaining £13,000 we need to meet our budget. We understand these are particularly difficult times, but any contributions would be greatly appreciated. You can donate to the campaign here: https://www.indiegogo.com/projects/dictating-to-the-estate/x/10245226#/
If you can't contribute financially, you can still support us by following the production on social media, sharing our posts, and spreading the word. Our handles are:
Twitter: @dtteproduction
Facebook: @grenfelldocumentary 
---
Yet Again! Back to MHCLG for Safe Insulation and Cladding
On Thursday, 17 October 2019, Fuel Poverty Action (FPA) delivered an Open Letter signed by over 80 organisations and MPs to the Secretary of State for Housing, Robert Jenrick, to demand safe cladding and proper insulation. 
Grenfell MP Emma Dent Coad, along with residents affected by dangerous cladding, poor housing and missing insulation, helped deliver the letter, surrounded by a diverse and lively crowd of over 40 people including representatives of the NEU, All African Women's Group, Biofuelwatch, the Global Women's Strike, Sustainable Hackney, XR Youth, Lambeth Pensioners Action Group and the National Pensioners Convention. The date marked the anniversary of FPA's previous Open Letter to Mr Jenrick's predecessor, which was delivered on 17 October 2018.
The new letter notes that people in the UK, both social housing tenants and leaseholders, are still forced to live in buildings surrounded by the same type of flammable cladding that Grenfell Tower had. The Government has failed to meet the commitments it made a year ago in response to the previous letter.
The event was also timed to coincide with Extinction Rebellion's October to enable climate activists to lend their support to demands – like insulation – that reduce carbon emissions while also making it possible for people on low incomes to keep warm and bring down bills. In response, there was a strong support and presence from Global Justice Rebellion.
Just 49% of homes in England had insulated walls in 2017, and UK government energy efficiency programmes have been slashed by over 90% over seven years. As a result, homes are responsible for one fifth of UK carbon emissions, and around 9,000 people die from the cold each year.
Signatories of the new letter include six national trade unions, as well as local branches, climate groups, tenants and residents associations, academics, councillors and nine MPs from three political parties: Labour, the Lib Dems and the Greens.
Shadow Cabinet member Rebecca Long-Bailey was among those who signed the letter. More than two years since the Grenfell Tower fire of 14 June 2017 claimed 72 lives, many of Long-Bailey's constituents are still forced to live in eight buildings that were clad under a PFI scheme in the same ACM cladding as Grenfell. Both the government and the housing association have refused to pay for its replacement. Pendleton resident Graeme Langton came down from Salford to deliver the Open Letter. Suspended by the landlord as TARA chair, after repeatedly challenging them, he said the government should get the flammable cladding off now, and argue about the money later. 
The fight goes on for SCIN: Safe Cladding and Insulation – Now!
This event received coverage in the Morning Star, Inside Housing and the Salford Star.
Open Letter on insulation and cladding delivered to MHCLG on Thursday, 17 October 2019
Oct 2019 Open letter to MHCLG re Insulation and Cladding incl. list of signatories (06.11.2019)

Update: Ministry replies to October 2019 Open Letter on Cladding and Insulation
Response from MHCLG to Oct 2019 open letter

---
Report of SCIN Day of Action – Safe Cladding and Insulation Now! – 17 October 2018
Our first Open Letter to the Secretary of State, with 150 organisations, MPs and other weighty signatures, was delivered 17 October 2018.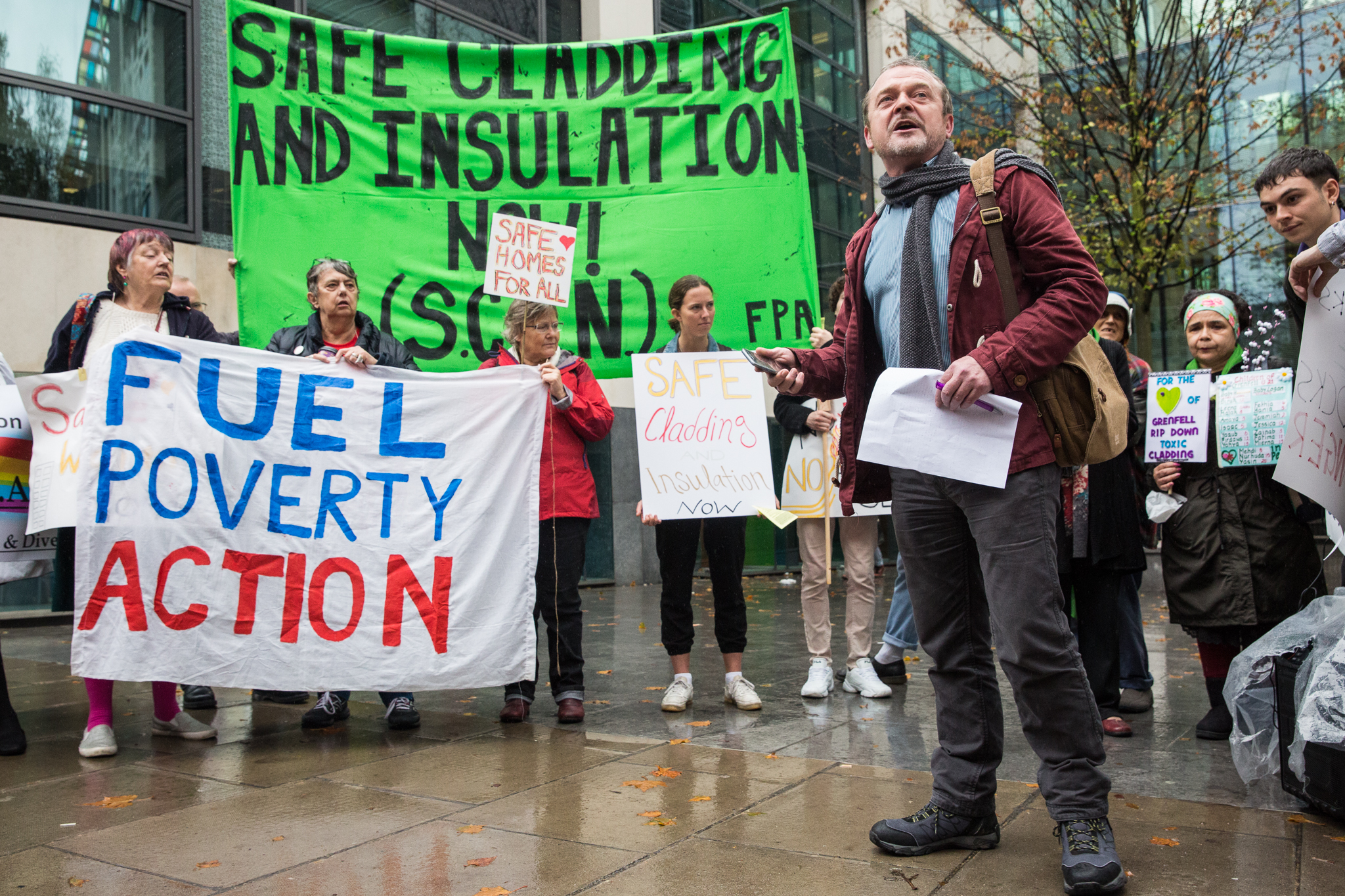 Sixteen months after the Grenfell fire, 50 people stood together in the rain, outside of the Ministry for Housing, Communities and Local Government (MHCLG), to deliver an Open Letter that demanded safe and warm tower block homes. The demonstration was organised by Fuel Poverty Action (FPA). Many of those who came spoke out. 
Speakers included residents living with Grenfell-style cladding, people from the Grenfell community, and supporters. The speeches covered a wide range of issues, including the plight of children at Grenfell, the needs of disabled people in high rise blocks, and the threat of climate change and associated extreme cold weather to residents whose insulation has been removed. The common thread of safe and warm homes tied it all together, and many, including the Fire Brigades Union, Unite Housing Workers and other major trade union bodies, pledged their support to the campaign for Safe Cladding and Insulation Now (SCIN). This support lays bare the outrage felt because thousands are still living in tinderbox homes or homes that are freezing, mould-ridden and expensive to heat when winter comes.
When the speeches were through, the letter was unrolled. Now standing at nearly 150 signatories, which includes 28 MPs from four major political parties, 5 national trade unions, 20 other union bodies and branches, NUS, 5 councillors, 44 housing and Grenfell-related groups, 16 poverty and discrimination organisations, 15 environmental and anti-fracking groups and many others, the letter carried real weight. Three people living with Grenfell-style cladding and a member of FPA walked into the MHCLG to hand-deliver the letter. The group spoke with a civil servant from the department, who took down details of specific affected towers, listened to the grievances of the residents and promised that the letter would arrive on Secretary of State James Brokenshire's desk that day. FPA are awaiting the promised swift response.
Following the hand-in, the demonstrators marched to the House of Commons and held a two hour long meeting, including Emma Dent Coad, the Grenfell MP, Rebecca Long-Bailey MP, Shadow Secretary of State for Business, Energy and Industrial Strategy, and Alison Stoecker, secretary to John McDonnell MP. Residents and MPs declared their commitment to the campaign and discussed how to – together – force action to ensure that residents are protected both from fire and from cold.
The last event of the Day of Action – 17th October – was a crowded tenants and residents meeting called by Southwark Group of Tenants Organisations. Held to highlight the lack of accountability in councils and the way tenants organisations are increasingly disempowered, beaten down, and deprived of resources when they try to campaign for better housing conditions, the event echoed some of the demands of the Open Letter.  As the Hackitt Review into the Grenfell fire acknowledged, it is residents who hold the key to housing safety.
Whilst FPA and SCIN campaign supporters demonstrated in London, Right to Energy Coalition held a solidarity action outside of the British embassy in Brussels. Marking this as a transnational Day of Action and just one of many steps to achieve safe and warm tower block homes for all.
Read our 2018 and 2019 open letters, and the Ministry's replies. 
Media coverage includes:
The Daily Mail
Worcester News 
Salford Star
Radio London with Vanessa Feltz
Morning Star (article included as a picture below)
Manchester Evening News and many many others!
Also:
Please see excellent videos of the day produced by Reel News →
3 minute version 
9 minute version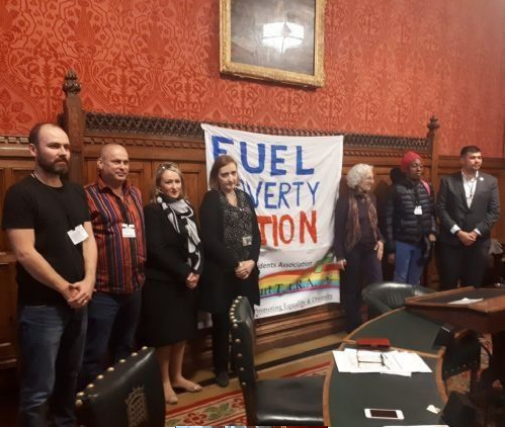 Call for June 2019 demonstrations and update from SCIN – June 2019
With the second anniversary approaching, two events – the Silent Walk on 14 June and a Solidarity March on 15 June –  will demonstrate that the 72 people who died in the Grenfell fire, and the survivors still fighting for justice, are very far from forgotten.  Please see details at the bottom of this email, and try to be there!
And please sign the petition from Grenfell United, pressing for an effective regulator for social housing, that will hold housing providers to account.  
It is time also for an update from SCIN – the Safe Cladding and Insulation Now campaign:
The Parliamentary debate on Grenfell  on 6 June was opened by Emma Dent Coad with a powerful indictment of the appalling and often racist treatment faced by the Grenfell community. 128 households are still homeless, and one active member of the community is now being held in prison over the anniversary, while none of those responsible for the deaths of so many has so far faced arrest.  
The debate that followed provides a useful resource for those concerned about the remaining danger to UK residents.
It cites an estimate that the homes of 60,000 people are still clad in flammable materials.  Hundreds of blocks are in the ACM cladding that was used on Grenfell Tower, with only a "waking watch" of workers patrolling the floors for signs of fire, intended to alert them to disaster.  Waking watches, moreover, have often been found to be untrained and inadequate, as well as extremely expensive for leaseholders or social landlords.  Residents have told FPA that too often watchmen do not walk the floors, and some whistle-blowing personnel themselves have told us that they cannot offer safety, or that they are not even properly equipped.  In many cases the private firms contracted for this key role have had to be sacked and replaced.
The majority of tower blocks still clad in ACM are now in the private sector, where leaseholders organised in UK Cladding Action Group have only just now won a government promise of £200 million for remediation.  Just a year ago, the £400 million for social housing was announced right before the first anniversary, and shortly after we'd launched our Open Letter to the government about it – we had to redraft and recirculate a new version.  Similarly, UKCAG's Open Letter was immediately made out of date by a government announcement.  Their campaigning has been startlingly effective, but many questions remain about the level of funding and how and when it will be accessed.  In the meantime, Housing Minister Kit Malthouse said in the debate that the government have allocated just £259 million of the £400 million announced for social housing, and they are not anticipating any further claims.
While many people think that social housing cladding is sorted now, this is far from being the case.  The Building Safety Programme Monthly Data Release reports good progress, but many tenants have been left behind.  See this shocking account by a resident of one of nine Pendleton Together tower blocks in Salford. Here, tenants who are attempting to organise about dangers that closely mirror those at Grenfell Tower have been subject to threats and intimidation – just as Grenfell residents were.  
Moreover, while Grenfell-style ACM cladding has been removed from many blocks, the government has delayed, and delayed again, the necessary tests on other kinds of potentially combustible cladding — results were due in the autumn, then in the spring, and now "by summer".  It has been estimated that there are 1,600 properties — both social housing and private — on which the material is not ACM, but could be as dangerous.  Yet these homes are not even being identified.
The 6th June debate helped highlight this issue but much more pressure is needed.  Equally important is the issue of buildings below 18 M (6 storeys) high, including not only public and private blocks of flats but schools, old people's homes, and hospitals.  The plight of lower buildings is finally beginning to attract more support. (We are trying to get breakdowns of statistics on this and non-ACM cladding through a Parliamentary Question.)
The debate also highlighted the need not only for remediation — and sprinklers, and an end to single-staircase blocks — but wholesale change in the way the construction industry is regulated and monitored.  
However, another key question was not mentioned in this debate: the danger residents have from cold and damp when cladding has been removed, but not yet replaced — a situation that can go on for months.  FPA has been highlighting this nightmare for over a year now.  Together with Tower Blocks UK and Disabled People Against Cuts (DPAC) we wrote directly to housing associations and local authorities before Christmas to ask for their policies (See Inside Housing report here or here).  
Some have responded with a promise that if cold proves to be a problem, they will compensate residents and ensure that they can keep warm.  Yet few so far seem to have done this.  Camden is one example. Others have provided inadequate amounts eg £15/week in Barnet where the extra costs far exceeded this figure, or have paid compensation into rent accounts, where it can be swallowed up by arrears.  Others, like Westminster, decided there was no need for compensation because residents' bills did not reflect a major increase when cladding was off — ignoring the fact that many people simply cannot afford to risk keeping the heat on in the hope that their bill will be covered.  Salford residents too have been told they must offer proof. As demanded in our original Open Letter to the Minister, safe heaters should also be provided to residents, so they don't have to go out and buy the cheapest — and possibly least safe — from the local second hand shop.  
Since there are still so many more buildings with combustible cladding — buildings of different purposes and heights and different kinds of materials as well as different tenures — and since progress is painfully, unacceptably slow, this crisis looks like continuing for a long time to come.  Some landlords have delayed the removal of cladding until after the winter — putting residents in a painful Catch 22. The best solution is clearly for cladding to come off and go  on again immediately.  Some social landlords have achieved this, eg in Islington, and two years on from the fire excuses like delays in the supply chain are now wearing thin.  Some, as in Wandsworth, have even taken cladding off and replaced it floor by floor – necessitated in this case because it was attached to the windows. 
But some tenants wait for months to have cladding replaced, only to have removal scheduled just when it's getting cold.  And many social landlords did not bother to even reply to our letter. They need reminding that each year nearly 10,000 people in the UK die when they cannot afford to heat their homes.
Pressure also needs to be increased to meet residents' demands on the toxicity found in a wide area around Grenfell Tower — and to ensure that cladding and insulation applied in future is truly safe – which means non-combustible, and non-toxic.  
In the meantime, and most urgently, please show your support for the Grenfell survivors and community on 14 and 15 June.  
Grenfell Silent Walk on Friday 14 June
Spruce Court, Salford: A mirror image of Grenfell Tower – July 2018
Mirror image of Grenfell Tower – Spruce Court Salford fears disaster – July 2018
Cladding: A National Emergency – FPA Briefing – 5 March 2018
This briefing brings together all of the research we've done on cladding, covering the following topics:
The scale of the cladding crisis

How many buildings currently fail to meet building safety regulations regulations. Case studies of buildings that have had cladding removed post Grenfell.
Illness and death caused by unsafe buildings (from cold and fire)

A timeline of building regulation changes leading up to Grenfell
Private interests over public safety – details of companies profiting from unsafe housing
What the government is (and isn't) doing post Grenfell
Conclusion and demands by residents and Fuel Poverty Action
Quotes from public figures and residents living in affected housing.
You can read the full report in the research section of our site, or download a PDF file (recommended) here.
Public Meeting on housing safety post Grenfell – January 2018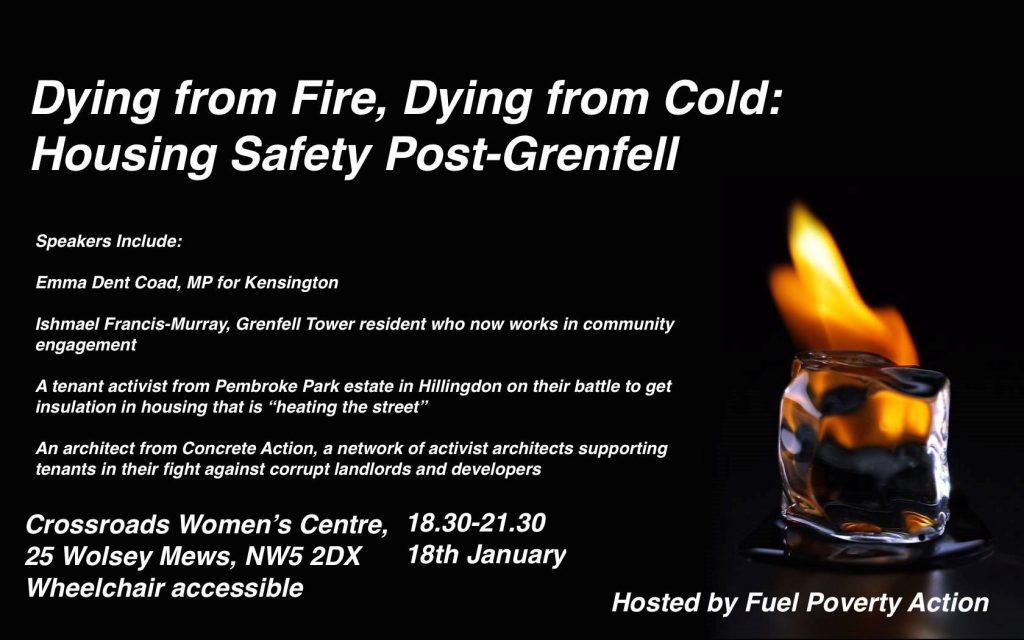 On January 18th 2018, Fuel Poverty Action hosted an evening of discussion about the cold, fear and poor living conditions faced by residents of many housing estates in the wake of Grenfell. You can read the full report of the discussions that took place in the meeting here.
Other work by FPA
Fuel Poverty Action in the media
Ruth from FPA speaking about winter deaths and cladding on the BBC
–
Coverage of our SCIN Day of Action

Morning Star
Manchester Evening News and many, many others!
---
[accept_stripe_payment name="Donate" button_text="Donate"]